VR video making is growing rapidly and innovating day by day. Not only VR product developers but also giants  in the video camera making are developing VR cameras. Nikon , Samsung , Kodak, are already in the market with their 360-degree video capturing VR cameras. There are more cameras on the market now than ever before, from entry level to professional and many more to come. Many of VR enthusiasts like us are looking for 360° cameras to start making own videos. In this edition let's talk about such cameras.
Ricoh Theta SC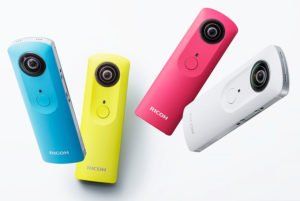 Theta SC is company's second camera after Theta S to capture life's epic moments in immersive 360° photos & videos. It allows you to take full HD videos at 30fps, works fine with android and IOS with wireless sharing option. The 1/2.3-inch image sensor gives you approximately 14-megapixel output. The bright F2.0  twin-lens provides exceptional low light shooting capabilities with high-precision stitching technology that delivers an astonishing 360° experience. A number of optional shooting modes are available, including DR Compensation, Multi-shot noise reduction, and HDR composition. You can shoot full HD 360° spherical videos up to 5 minutes(can store up to 8GB). Theta SC comes with a dedicated  Video image-editing application Theta+ to easily edit captured videos. Synchronise Theta SC with your smartphone or tablet with to see live still captures. You can grab it for $299.95 and available in four different color options beige, white, blue, or pink.
VUZE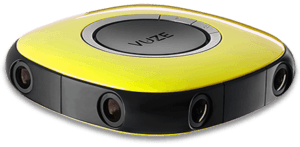 Vuze is the world's first 3D 360° spherical compact and lightweight camera selling in the market. It's proprietary Technology Create cool, immersive, 3D 360 content with the easy to use Humaneyes Studio(VR production & editing software). Enjoy 4K spherical videos captures and stills using 8 Full HD cameras within an easy-to-use interface. If you pre-order it now, Vuze is offering free VR headset and a mini tripod as a promotional offer. Vuze costs about $799 in US and Canada, $959  for India, China, and New Zealand, while in Europe you can get this VR kit for $899. This VR package contains Vuze Camera App and Humaneyes Studio for editing your VR stuff. Vuze VR kit is the best deal to grab, you can pre-order it here.
NOKIA OZO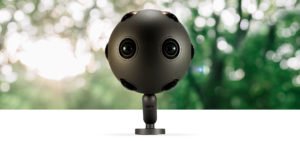 NOKIA, is a Finnish multinational communications and  90's mobile market hero is here with its latest innovation OZO. Nokia OZO is a 360° videos capturing camera for best Virtual Reality production experience. This camera has eight 2K resolution sensors with 195° field of view per sensor to deliver a natural sense of presence. To get 360° surround sound, it has eight sets of mics and using a superclass rendering software it completes the immersive VR experience. It has its own memory and battery slots that enables it for completely wireless use also a single co-axial cable enables continuous recording. OZO comes as a complete system including camera, its accessories and software in it's own rugged shipping case. This Whole package costs a whooping $40,000 to get one.
Depending on your need you can go for one of the above-mentioned cameras, Entry level, mid level or Professional level. Check out last article for VR app development. Stay tuned for more updates, see you next week 🙂 .