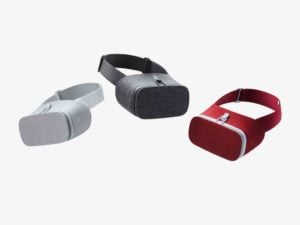 We love Google and we love virtual reality, After an evolutionary product  'google cardboard', it's now time to 'daydream'. Google has something great to take us on incredible adventures in virtual reality with their new beautiful and lightweight VR headsets .Google in their event on 4th of October in San Francisco announced it's 'daydream view' a high-quality VR headset.
Look and Feel
Google's new beautifully designed daydream view headsets are lightweight just 220 grams(30% lighter than similar devices) and easy to wear on and making the vr experience more comfortable and lovable unlike the other vr headsets out there in the market. It has a nose shaped cut that makes it more breathable.Daydream view has an outer body made up of foam and soft fabric and feels nice to hands, but what if it get dirty? Not a problem,the outer fabric is removable and hand washable too.
Features

Daydream view comes with a daydream controller which features smart motion sensing technology with a four buttons with smart clickable trackpad structure using which we can make our daydream view experience a next leveler.This headset have auto alignment so just put the daydream enabled phone and you're good to go. It can fit small as well as big phones easily.The headset comes in three different colors slate,snow and crimson, choose the color that suits your style.It uses NFC to get connected with the phone.
 Google, to make this Daydream experience great for some early birds has launched a Harry Potter game that ties in with beasts and where to catch them. With google's new headset you can experience the google street view and 360-degree videos much interestingly. Daydream view is available for pre-order in some countries and will be available worldwide soon with a price tag of $79.
Cons
Google is surely eyeing on capturing the VR market with its new headsets but it has some flaws too. It has a single band to fasten it tightly around the head. It's just not enough to support the entire weight of the headset along with the phone in there. Another flaw is that it's supported by Google's newly released phones Pixel X and Pixel XL only for now. Availability is limited and is available for preorder in some countries like United States, Canada, United Kingdom.
Google always comes up with its innovative ideas and for $79 it is worth giving a shot!