Virtual reality is hot topic nowadays, People enjoying VR games and app. Many of people are using VR headsets to watch their favorite movies and shows without blocking the TV. Watching movies using two magnifying lenses and smartphone's display is a bit hefty and painful for our eyes. To take on these issues Avegant has launched a headset based on Retinal Imaging Technology ;GLYPH so that you can enjoy your videos in the most natural way possible. The Glyph sits on your head like a pair of headphones, and when flipped down over your eyes. Avegant's patented Retinal Imaging Technology uses advanced optics and an array of two million mirrors to project images directly to your eyes to recreate natural sight.
Key Features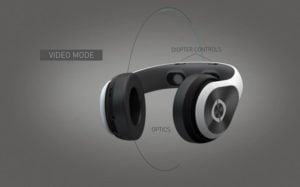 There is no screen in Glyph, Advanced optics create complete images. This enables effortless viewing, and it's extraordinary. No setup required, just plug and play into any HDMI-supported device and delivers your existing content. You can watch or stream any type of existing media, including an immersive 360-degree experience and side-by-side 3D, in amazing detail. Glyph lets you see above and below the visual field, so you can easily orient yourself to your surroundings. It uses low powered LEDs to transmit vivid, life-like images directly to the eye. Company claiming that there is no side effect or eye straining due to prolong use of this headsets.
Tech Specs
Resolution : 1280x720p per eye; 2 million micromirrors

Battery : 2060mAH Li-ion, upto 4Hrs of playback

Video & Audio Input-micro HDMI, 3

Audio-Only Input :3.5mm AUX upto 95db at 20Hz-20kHz

Charging Port : microUSB

Headtracking : 9 Axis IMU

Field of view : ~40° diagonal
Avegant's new media wear, a new category of personal entertainment technology designed with go-anywhere portability and amazingly precise video capability.Glyph priced at $549 and readily available to buy.
It's more like seeing than watching and far better than any other display technology. Prepare to be amazed!