Shenzhen based Chinese company launched world's first ever 360 camera Insta360 Nano for iPhone back in July. Insta360 is all set to launch their another camera Insta360 Air for android devices at affordable cost. This two years old company has become the leader in VR spherical camera industry and exported their products in more than 90 countries. Company's mission is to make VR spherical technology be easily used, shared, appreciated by everyone at affordable pricing. Let's take a look at company's two products made for leading mobile operating systems.
Insta360 Nano for iOS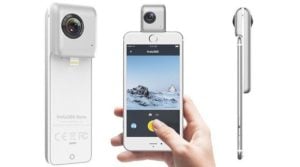 Insta360 Nano is world's first tiniest 360 degree Dual lens VR Video Camera for iphones. This portable gadget favors your 360° photography with supreme convenience. Experience a new dimension of photography and videography with a resolution of 3040×1520(3K) @ 30fps. With just a simple click, you are able to share your smart 360° selfie or a thrilling 360° video of skydiving or bungee jumping. It has a storage capacity of  64GB for accommodating large captures easily. All your 360° photos and videos are available for preview in real time via its app. It has a large 2Wh Li-Po battery with no expandable storage option. Insta360 nano weighs around 0.7 pounds and uses phones lightning port to get connect. This tiny camera is a perfect mate to capture parties, events, live performances with your iphone. Insta360 Nano is available on amazon.com with a price tag of $169.
Insta360 Air for Android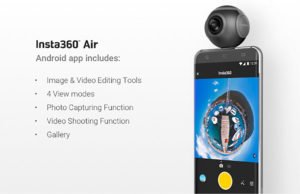 This lightweight and ultra-portable camera gives you a perfect 360° HD surround vision. Compared with conventional 360° cameras the Insta360 Air is designed as an extension of the smartphone rather than a bulky add-on. It features advanced 210° dual fish-eye lens, minimum aperture of 2.0 with built in OIS for perfect output. The output resolution and frame rate is same that of Insta360 nano. This camera comes with an android app that has editing tools, gallery , four different capturing and shooting modes. The Insta360 Air is simple to use, once connected to an Android device using phone's microUSB or USB type-c port, the app automatically activates. The portable camera comes in four fashionable colors. Matte black, crisp white and silver, ravishing rose pink or rich gold. This product is listed on indiegogo.com, it will be available soon with a price tag of $99.
Follow us on Twitter and Facebook for more updates on virtual reality.