Mi pop is xiaomi's gathering event which used to held in cities of china since 2012. Mi Pop has been organised in over 50 times in more than 30 cities, including Beijing, Shanghai, Guangzhou and Shenzhen. About 300- 500 MI fans participate in the event that includes exciting lucky draws, games, fan performance and other interactive activities. India gave overwhelming response to Mi products and made Mi India number one in smartphone market. In response to this huge fan following Mi India decided to organise this event in Mumbai,India on 11th of December. Mi Pop VR events this is a unique and special version of Mi POP, for the first time. This event will be live-streamed in VR! unlike the earlier Pop events, Volla!
Mi Pop VR Participation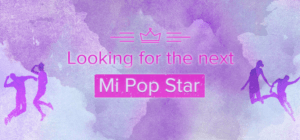 Mi Pop VR is a big party xiaomi has planned just for Mi fans in India. There will be lots of fun games, plenty of lucky draws prizes to be won, special performances by Mi India staff.  Mi India is looking for talented people to perform at Mi Pop VR. It's time to show your singing chops, mad dancing skills, or just about any performance that would entertain fellow audience. Audition Period is from Wed, 23 Nov – Sun, 11.59pm, to 27 Nov 2016. Selected Mi fans will be receive free round-trip tickets, accommodation and specially prepared Mi goodie bags. You can enter into competition here by submitting your performance video on your personal YouTube channel. For the promotion of this event Mi has some cool games which can get you some prizes too. You can book a ticket for yourself by signing up for mi community app. If you are lucky enough you'll get a code using which you can grab a ticket from bookmyshow.com for ₹149 only. Registrations for this spacial invite-only event is open till November 30th.
This special VR event brought some excitement again to its fans and it will be interesting to know how Mi India bring it in the VR way. Stay tuned for more updates on this event as big-shots mystery guests will be there, follow us on Twitter and Facebook for more updates on virtual reality :-).