A new app called 'Shazam for Beauty' based on Augmented Reality has been developed that lets the user try a number of different make-up styles. The app is based on 'Get the look ' technology by Rimmel London, a coty-owned brand. From friends in real-life to celebrities you can now try all their different makeup styles with this app.

How does the Makeup App work?
First, the make-up on the subject is detected by an advanced real-time tracking tool. After this, the colors are matched with the cosmetics by Rimmel. The users can then get the look by seeing themselves virtually, through their smartphone cameras. The corresponding products can be purchased by clicking on the virtual look on the users' smartphones. This is very similar to Snapchat Filters, which is also AR based since recently, but much useful.
'Shazam for beauty' is an app developed by Holition, a creative agency that works on Augmented Reality related solutions. Advanced FACE technology is the key feature used in this app that can detect everything- eyeliner to the foundation to lipliner too. You can smile and talk and turn as well without the makeup getting disoriented on your face just like a mirror. This is possible because of the face tracking technology used in the app.  The app is accurate enough to distinguish between 'winged eyeliner' and a dropped flick, between a volumised mascara and the one with more length. Such speed and accuracy are enabled because of the use of Artificial intelligence and  few other machine learning techniques.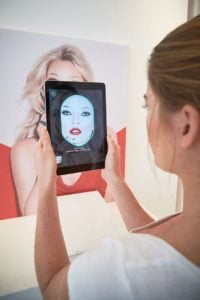 The app is interactive hence the users can customize their looks with different colors and shades in real time. Other virtual makeup apps like L'Oreal' and CoverGirl are trending these days with their own versions. Such apps are a bliss in the world where makeup is valued and trending higher each day. Keep reading this space to find out about many more of such AR based apps and innovations.