Oculus Rift ruled the field of Virtual Reality Devices a year ago during its initial stages of release. It was among the first Virtual Reality devices to let the users understand and gave them a whole new experience. After a long time of speculations, HTC Vive has finally hit and the stores and we can say that it is much better than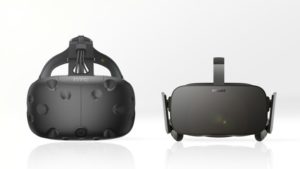 How is HTC Vive the better one?
After the release of the first batch of  HTC Vive Virtual Reality headsets, HTC has proved to have produced Virtual Reality headsets with a better experience. Although setting up Vive is a big headache, the experience makes you feel that struggle was all worth it. Vive has overtaken Oculus Rift by being sold twice of its sales. the outselling ratio is 2 to 1. Irrespective of haveing very similar features, there are few features that differentiate them. HTC Vive has a better tracking area than Oculus Rift. The sensors of Vive include laser position sensor and a front facing camera in addition to accelerometer and gyroscope.
The HTC Vive is a little more expensive than Oculus Rift by $200. According to a survey by Steam, the percentage of Oculus Rift has reduced to 33% from 85% after the release of HTC Vive. Watch their video below that features Vive-
Once the VR is connected to your iPhones and Android phones, the messages are directly delivered. Vive's display screens give you impressive quality along with amazing motion tracking. These are the few of the many reasons why anybody should choose Vive over Oculus Rift.  Another impressive feature about HTC is that their Vive gets delivered in two to three working days while you have to wait for a month to get Oculus Rift delivered at your doorstep.
You can also learn How to Make your PC Oculus Ready
Keep reading this space to learn more about VR gadgets. This news was reported earlier on iTechPost.