As mentioned in an earlier post, we know that Snapchat is the first ever Augmented Reality Social Platform. The Snapchat filters update was a hit across the globe. Now, the latest update of Snapchat includes DM (Direct messaging) as well as Augmented Reality based "World Lenses" feature.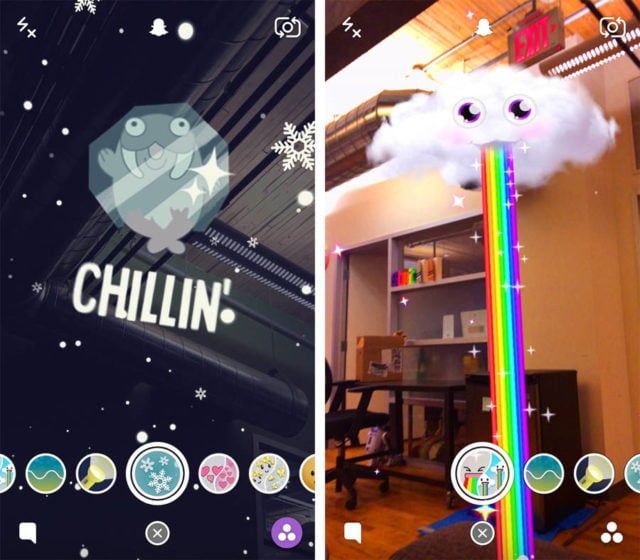 Snapchat introduces "World Lenses"
"World Lenses" works best with the camera compared to Snapchat's Selfie shooter. Filters like snow effect, sparkling environment, vomit rainbows and yellow butterflies were few of the many famous ones. These can now move in a vertical orientation in spite of the position of the device. However, this feature does not work well in landscape mode. But. few lenses need to be shown the entire environment around to find few objects. For Example, vomit rainbow gives the clouds eyes and the cloud starts vomiting the rainbow once detected.
With respect to US Elections 2016, Vote World Lens are featured with white, red and blue stars from an air horn. Recently, Facebook had taken few featured from Snapchat, now Snapchat has borrowed the idea of DM from Instagram. Users can reshare the snap with their contacts by a long press on the Snap. However, these shared snaps will appear in the conversation.
How to activate World Lens?
For those of you wondering how to activate World Lens on your device, follow these steps.
Update and Launch the app.
Long tap anywhere on the screen.
Users can navigate to the previous menu by a single tap or slide right to get the left screen through this new interface. Also, users can now activate filters on selfie mode with a single tap on the face. This update is available for both Android and iOS users.
Keep reading this space for more updates on Snapchat. Meanwhile, you can also read about Snapchat's big move with Reality Hardware which is expected to cost $130.