Why VR Training?
As the subject of VR is catching the interests of people across the globe, it makes sense for every techie to keep updated about this technology in the near future and attend a VR Training course. It's already 2018 and the biggest companies including Apple, Google, Facebook (through Oculus), Microsoft, HTC, and Sony are spending millions of dollars to research and develop products in the VR domain. Experts have already predicted this year to be the boom of VR and AR, with the prediction of 2021 being the year of VR&AR with a $38 billion investment in 2021.
Furthermore, these companies are spending time and money with an intention of producing world-class products like VR headsets. Therefore, this hardware is definitely very important to experience VR but, would these products be bought unless there is enough and more content to experience VR using these products. And this content is something the techies can start creating for these products. Hence, keeping yourself updated about these VR related technologies are definitely going to pay you rewards in the very near future. As a result, luckily most of the big cities in India have one or more training centers dedicated to training techies to create content for these wonderful products.Virtual Reality Training Centers in India are more important for VR Growth in India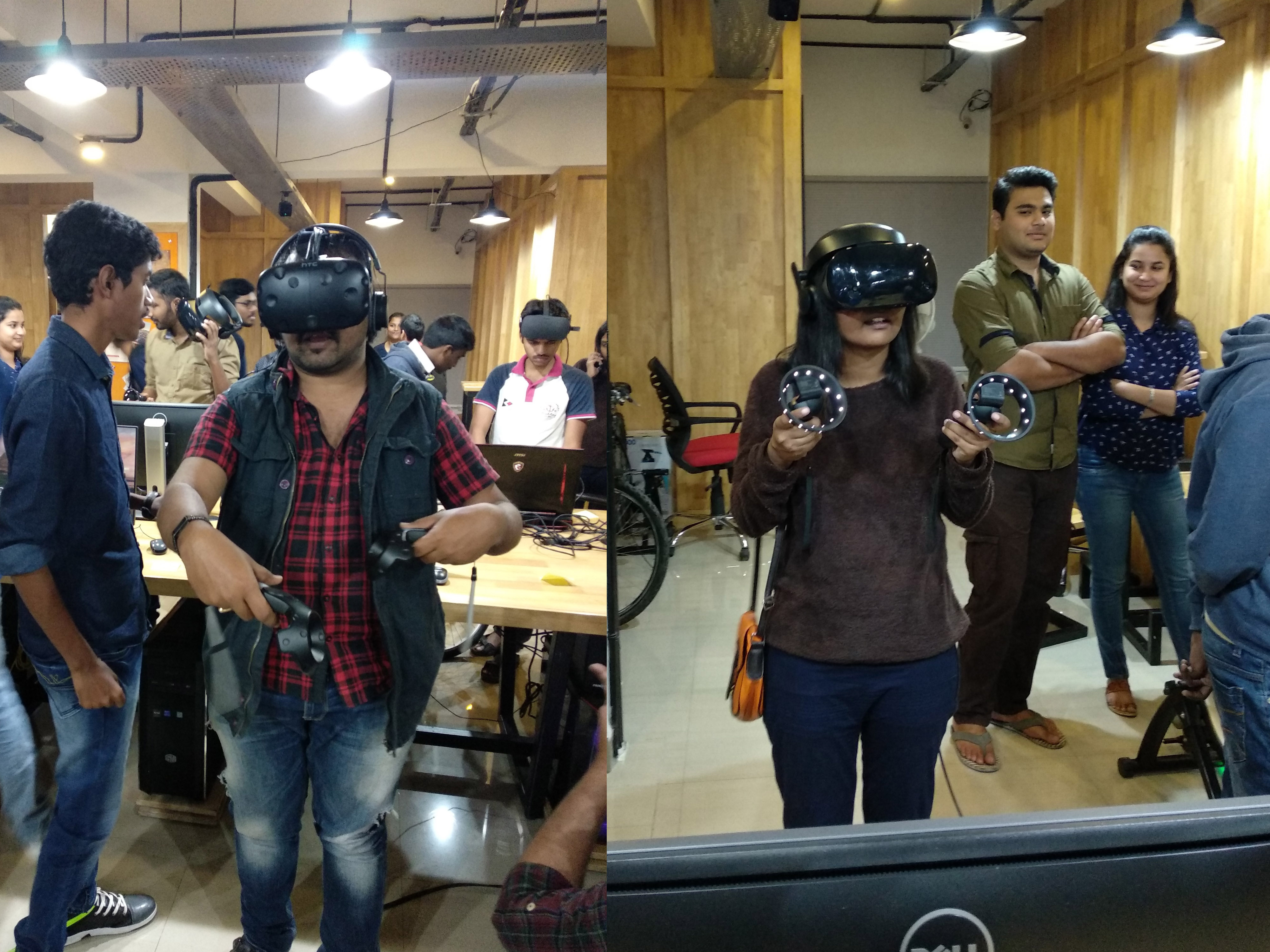 The list below indicates the different training centers by each city:
HYDERABAD :
Archimaze has been one of the leading VR / AR research and development companies in India. The company has specialized in VR Architecture. Based out of Dubai, this company has done a lot of architectural projects it can boast of and has also partnered with the biggest names in the architectural space. Furthermore, the company has also been offering training for VR in past few years in Hyderabad.

Archimaze is one of the only companies who offer training on Unity and Unreal. With few developers preferring Unreal to Unity or Vice-versa, Archimaze has you covered. Not only training, but Archimaze is part of the BonfireVR community which conducts a Meet-up for VR enthusiasts every fortnight. Again, you'll only find this in Hyderabad.
BANGALORE :

Virtual Reality, Augmented Reality, VR Simulation, AR Simulation, Industrial Simulation, Mechanical Simulation, Precision 3D modeling is one of the DreaMarT key strengths. It could be 3D modeling of industrial machinery and components, products or anything else which has to be shown virtually with life-like reality. Our 3D designers are well versed in mechanical, architectural and other types of drawings. DreaMarT uses high-end computers for high speed rendering with new generation modeling tools and applications.
CHENNAI :
Look into the world of Virtual Reality when you build immersive and fun VR projects with Unity 3D. In this course, you will understand and apply the basic principles of Virtual Reality Applications by knowing how they differ from Games and Desktop Applications.
You will be able to build various types of VR experiences such as first-person characters, diorama, 360-degree projections, riding on rails, and social VR. This project-based guide will also teach you how to use Unity to develop VR Applications.
CHANDIGARH :

Students opting for this course will be amongst the first not only in India but in the world and will have a real chance at becoming Global Leaders in a $150 billion industry.
The Diploma in Game Design Development programme is an intensive 12-month course that trains students in all aspects of making a game from scratch. At the end of the course, students will have the know-how to create high-end 3D games enabled for the Oculus Rift (a virtual reality head-mounted display) as well as for PCs and gaming consoles.
DELHI :
VRX Academy

Virtual Reality is the latest technology In India, the Huge future scope for young & talented students. Virtual Reality now using in a lot of industries like Automobile, Architectural, Corporate, Gaming etc. The field is growing exponentially in the last 3 years, and if still, you are waiting then you are too late, opportunities will be fewer, competition will be stiffer, and established experts will be tenacious about maintaining their positions.
Follow AffinityVR for more updates.