Fulldive VR – Virtual Reality
With a four star rating in google play, Fulldive VR is full entertainment package for VR explorers. It contains a huge collection of 360 degree HD videos over a million, and also browse the Internet at a completely new angle like never before .Fulldive VR can stream all YouTube videos in VR ,can play all videos on your phone like in a movie theater.Not only this but you can take pictures in VR, stores and accesses your 360 photos. Using VR market tab you can browse and download  new VR apps, trending VR apps, most downloaded apps.This app is compatible with all google cardboard inspired headsets. Fulldive Corp. to add more interesting features like direct streaming of computer screen called Fulldive bolt in near future. Available for free in Google Play !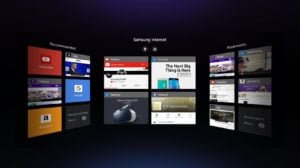 TrinusVR
Want to play your favorite PC games using VR headsets? The wait is over. TrinusVR by odd Sheep helps you play all your favorite PC games in VR with no expensive hardware setup.TrinusVR connects your Android phone to your PC, so you can play your favorite PC games in virtual reality (VR). IT uses the phone's gyroscope for head tracking to give you an awesome VR gaming experience with a wallet-friendly price tag of $0.99 .So strap on your VR headset and enter the TrinusVR! It supports the game controller too for the great experience. There is a Lite version of this app which is absolutely free but with limited access, so before you buy the full paid version you can try it for free. So put all your hassles aside and enjoy playing your favorite games like GTA, Counter Strike,Elite Dangerous and Minecraft in VR using this cool app.
Ascape VR Iconic Tours in 360°
Experience the world in virtual reality with unforgettable journeys to the places you've never been. To name a few,
Watch Star Wars parade in Disneyland

take a field trip to Coca-Cola museum in Atlanta

get the basics of wakeboarding in New Zealand

see Broncos stadium in Denver

the oldest Ford car in a clip from Detroit
your kids would love it! Live the life of virtual reality traveler – your teleport is waiting! Watch beautifully filmed 360° videos of iconic places, find yourself by the ocean in Hawaii or Florida, meet local people in New York or Amsterdam, feed African elephant or dive with a shark in the Caribbean. Check out the world map and jump the portal you like. Available for free in Google Play !