Augmented reality in sports is an idea that sounds a bit ironic. Sports usually evoke images of going outdoors to play, but here in this post, I am going to suggest how Augmented reality can enhance players capabilities and let teams outshine their competitors. Athletes at the highest level need to adapt to survive and having said that, technology has gradually entered sports with a number of revolutionary ideas albeit some controversies making their way into the play area. Here is how
 AR to coach athletes
It can help understand how a person handled a particular stressful situation before and analyze it by replaying it. There are quite a lot of people who are skeptical of the effect AR will have in the performance of the players. It is baseless and I think wearables have a negligible effect on the performance and people will eventually get used to it.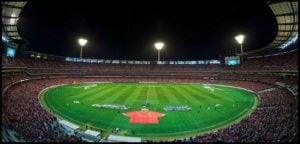 Create an immersive experience
Let's be honest. Watching a game on your TV is not the same as experiencing it on the stadium. With the implementation of Augmented reality in sports, we can expect people to see the atmosphere in real time. A sports fan can sit in comfort, order favorite food, not deal with traffic issues, and often have better experience.
New ways to advertise the product
People hate ads. But there are some which just makes us hover over the skip button to see what the ad is all about. Sports organizations can team up with corporate organizations to develop a forum to sell the brand. It gives a unique experience and can change the way we view ads. With the rise of Internet, people thought we could not monetize the content, but naysayers have been proved wrong.
Augmented reality in sports can really be a revolutionary and disruptive idea. It could change the way we coach the athletes, watch the game, and watch ads along with sports. It can be a great win-win situation for all the stakeholders involved.