Imaginate is a technology enterprise focused on Augmented Reality (AR) and Virtual Reality (VR), and what's more for this is that, it's platform Dressy offers innovative visualization products and services which upgrade the shoppers shopping experience. This company founded by Hemanth Satyanarayana who graduated from IIT-Madras and completed his Masters in the US is the winner of the prestigious MIT TR35 India Innovator award and has also featured as a technology pioneer on Lufthansa – Pioneering Spirit TV show by Economic Times NOW.

How it works?
Have you ever quit experimenting with garments in a shop because of long trail room lines or absence of time? Is your biggest problem with online fashion is that you cannot visualize exactly how the apparel and accessories look on you?Hence if your aim is to try a wide variety of clothes and accessories without going to the physical store or without even taking a chance of how it might look on you, then DRESSY, is your to go platform.
DRESSY is a plug and play virtual trial room for your digital shopping platforms, which provides a extremely personalized experience to its users. The main aim of DRESSY is to make digital shopping easier for its users by providing a virtual trial of the outfit selected by the user. The plugin provides features like custom size recommendation, Digitized clothes and accessories superimposed on the user's image to give a virtual feel of trying on various clothes and also an option to upload an image and try out various clothes on the image uploaded.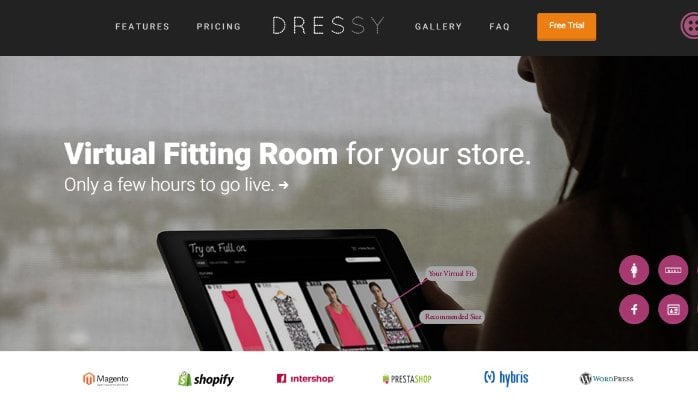 Customers additionally get the opportunity to share their look on his/her social communities for suggestions or criticism, thus empowering the store to get more footfalls, enhance product rates and manage order returns effectively.
The Installation procedure:
DRESSY is compatible with almost all the available digital platforms. It is a scalable platform and just takes couple of hours to-go live on your online store. You can install this app from playstore/appstore. If you are a physical store then it involves an addition to the class attribute to the shop's product template in HTML and inclusion of Dressy javascript file for the same.
What if you are a physical store?
The platform is soon coming to collaborate with physical stores using a custom tablet app and smart kiosks to enhance in-store customer experience.
How expensive will this experience be?
Users can try Dressy for FREE! Whereas there are different schemes available for small and large stores that want to tie up with Dressy.
To all you shopaholics, life has just becomes easier.