The 2018 Game Developers Conference (GDC), the world's largest event for professionals dedicated to the art and science of making games, kicks off its 32nd edition today at the Moscone Convention Center in San Francisco.
Virtual Reality Pushes Forward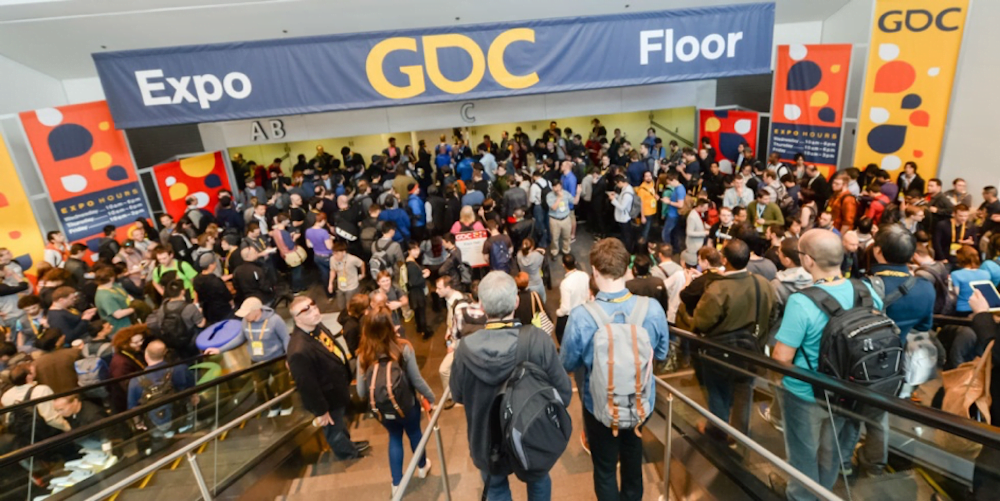 That VR featured prominently at GDC 2018 should come as a surprise to few, given its many applications in the gaming field.
A number of non-gaming properties have dipped their toes into the virtual reality waters, attempting to bridge the gap between video game worlds and reality.
Survios showcased Creed: Rise to Glory, a virtual reality boxing tie-in to 2015's critically acclaimed Rocky film that hopes to train its players to box rather than just showcase events from the movie. On a less action-packed note, contemporary board game sensation Catan received a VR adaptation, recreating the experience of playing the game, but with strangers wearing masks.
But outside of the hardcore gaming space, VR has had little luck finding popular adoption among a more casual crowd. Facebook and Oculus are attempting to find a mainstream audience with the Oculus Go, a $200 wireless headset that needn't be tied to a phone or PC. Disney has also invested in virtual reality, creating a tool to automatically create three-dimensional storyboards from film scripts, that, ideally, will ease the burden of turning flat text into VR imagery.
Wider use cases for VR could not come at a better time, as a January survey of game developers administered by GDC revealed that interest in making VR games is steadily waning.
"I just don't think the install base in most cases has been quite there for them to make their investments back, unfortunately," said Simon Carless, a GDC 2018organizer, to Mashable. "People will continue to work in VR, I just think it will potentially be more indie studios, or maybe more things funded by hardware companies who want examples of the games to showcase."
This waning developer interest showed itself in the "Best VR Game" award GDC presented: Superhot VR took the grand prize, despite having been originally released (and considered for the same award) in 2016.
The State Of Mobile Games
Google dominated much of the conversation around augmented reality at GDC 2018, announcing that it would be releasing its Google Maps geographic data for developers using the Unity platform. Instead of painstakingly recreating environments by hand, a gargantuan task for outdoor games such as Pokemon Go or the upcoming Ghostbusters World, developers will be able to use the same satellite maps many consumers trust sight unseen.
"We help you design gameplay around real-world locations so you can choose places that are appropriate, unique, and fun to play, no matter where your players are," said Google product manager Clementine Jacoby.
This data will make it easier for smaller developers to jump on the Pokemon Go bandwagon, offering the potential for lower-budget titles that aren't tethered to existing properties.
On the non-AR front, Facebook Games has been facing difficulties in drawing users because of recent privacy issues on the platform at large.
"Thinking about the context of where we are and saying, 'Look, obviously privacy is extremely important, not only to Facebook but to the developers we're working with,'" Leo Olebe, Facebook's global director of games partnerships, told Polygon. "It's mostly about our mission on the games team and that's to try and build incredible experiences for people and help developers be successful."
Additionally, HBO revealed another promotional tie-in to Westworld Season Two at GDC 2018, though one slightly less immersive than its presence at SXSW. Described by Polygon as an "economic strategy sim," the game lets players take control of the shadowy corporation running the theme park, letting them experience the same difficulties in managing potentially sentient robots that the show's characters do.

VRDC returns to GDC 2018 for its third consecutive year on March 19-20, giving attendees the opportunity to learn about virtual reality and augmented reality in game development across disciplines including Design, Production, Programming, and Visual Art. The GDC Summits, which also take place March 19-20, offer in-depth insight in focused, full-day Summits and Tutorials covering a comprehensive range of game development disciplines including Artificial Intelligence, Community Management, Education, Game Narrative, Mobile, Independent Games and UX. GDC 2018's Esports Day, which takes place on the 19th, offer attendees the ability to learn about growing esports ecosystems alongside long-time developers, publishers, and esports community leaders.
Following VRDC and the GDC Summits, the main GDC conference will kick-off on Wednesday, March 21. This year, the GDC conference will feature four Classic Game Postmortem sessions, in which the creators of Sonic the Hedgehog, The Bard's Tale I and II, NBA Jam and Ultima Online share their unique perspectives on the development process, inspirations and lessons learned creating some of the most innovative games of all time. Some of the most respected companies and developers in the industry will be hosting sessions during the GDC conference, including Nintendo, Electronic Arts, Ubisoft, Riot Games, Epic Games, Bungie, Naughty Dog, and many more.
GDC hosts a variety of Interactive Spaces that are open to all attendees throughout the week. The GDC Film Festival debuts this year, marking one of the first-ever documentary and narrative film festival centered on the art and culture of video games. Independent games will be celebrated at the Indie MEGABOOTH Showcase, GDC Play and Day of the Devs by iam8bit and Double Fine. Returning for its fifth year, alt.ctrl.GDC allows attendees to play with imaginative games that use non-traditional controllers like the 2017 Award winner, Fear Sphere, which was a spine-tingling inflatable escape-room that players stepped inside and illuminated with a flashlight that doubled as a portable video projector, while another player stood outside to help guide the sphere-engulfed player to safety.
To learn more about GDC, follow @Official_GDC or visit: http://www.gdconf.com.
GDC is also introducing XRDC this week, a new event in October 2018 that will focus on augmented, virtual and mixed reality innovation. Following five successful editions of the Virtual Reality Developers Conference (VRDC), XRDC will expand to encompass the rich diversity of immersive experiences across industries including games, entertainment, healthcare, education & training and more.  Over the course of two days, attendees will gain access to expert-led sessions, the latest solutions and innovations, and unrivaled networking with top-tier companies, developers, artists, technology providers, VCs and business professionals.  XRDC will take place October 29-30, 2018 at the Westin St. Francis Hotel in San Francisco, CA and the call for papers will open in early May 2018. For more information about the event and to stay updated as content is announced, please visit: http://www.xrdconf.com