Ten years ago google has launched 'Google Earth'  a whole new way to explore the Earth. Explore the Moon and enjoy tours of landing sites, narrated by Apollo astronauts  or just enjoy the endless sky.  Go to Mars and take a 3D interactive tour , Search for famous Martian landmarks where Matt Damon went. There are many amazing places to explore on Earth, But even the most active travelers can only see a fraction. What if we could see them all? Google has introduced Earth VR, a totally new perspectives to explore incredible sights on the Earth.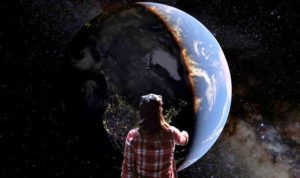 Features
With Earth VR, you can fly over a city, stand at the top of the highest peaks, and even soar into space. It  comes with cinematic tours and hand-picked destinations that send you to the Amazon River, the Manhattan skyline, the Grand Canyon, the Swiss Alps. Google Earth VR puts the whole world within your reach, Hoover Dam from Arizona is the greatest adventure. Earth VR is available for HTC Vive for now and it will be available on other platforms in next year including google's Daydream View. You can download it from Steam Store if you have HTC Vive. Google Earth is available as a desktop software, on web, and as a mobile application.
Google is taking serious interest in making virtual world look real in a fun, simple, and affordable way. Check out the VC for Earth VR, Stay tuned for more updates from google.