After Snapchat announced itself as the first ever social platform supporting AR, many other apps followed up. One of those many apps is Hike Messenger. The hike is a messenger app made with love in India. Hike messenger's Timeline was recently replaced by stories.The Hike Messenger had followed up Snapchat and had introduced Snapchat Stories and AR Face Filters as well.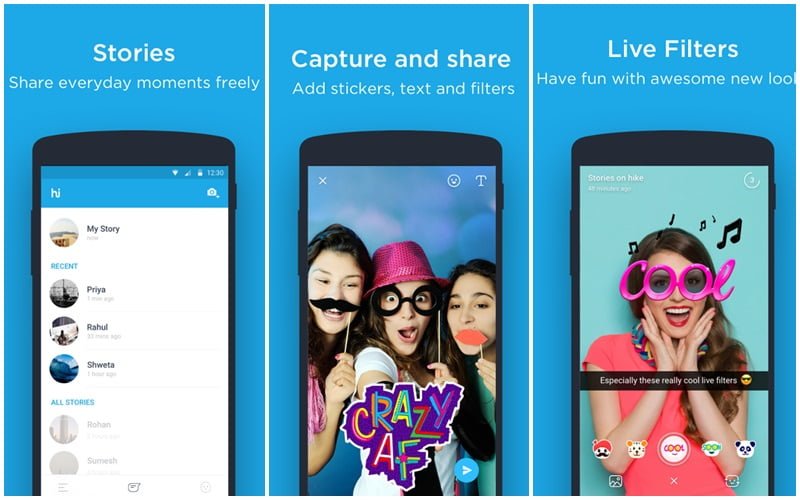 Recently, Hike also announced about their inbuilt camera supporting Augmented Reality. Meanwhile, the stories on hike messenger last for 48 hours, whereas Snapchat's stories last only for 24 hours. Hike's camera is much faster than that of Snapchat. Emojis, texts, stickers and other filters can also be added to snaps clicked from hike's camera. Around 15 'Live Filters' were introduced by Hike in the beginning.
Hike gets updated with Baahubali AR Face Filters
Hike has now teamed up with the Baahubali team! Currently, the hike has over a 100 million users. Hence, the Baahubali team believes that the app is an ideal preference to engage the younger generation. Hike messenger has now introduced a number of Baahubali stickers, right from Kattappa to Baahubali. All these stickers are now available to be used. Furthermore, Hike has also updated its Live AR Face Filters by adding the Baahubali looks.
Well, using these AR Face Filters is quite simple. It works much simpler Snapchat. All you have to do is, tap on the face like icon on top right corner to turn on a face filter. You can swipe through numerous face filters once one of these appears on the screen. Face detection is done automatically on the hike messenger. Whereas, in Snapchat you have to wait until your face gets detected. These filters are updated for Android as well as iOS users as well. Keep reading this space to stay updated about Hike's AR implementation. Meanwhile, you can also read about Instagram's latest AR update.