VRnxt is one of the most popular Indian VR Startups. They have been creating interactive VR experience for builders. Now, VRnxt is all set to give India its first VR Auto Showroom. A presentation was given by Varun Priyan, founder of VRnxt at the entrepreneurs meeting held in Kochi during December 2015. Paul K John, S/O John K Paul, MD of Popular Vehicles and Services was super impressed with this idea.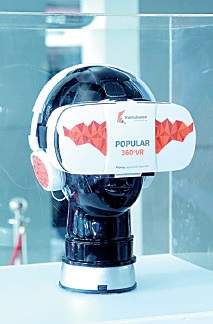 What was VRnxt's Presentation all about?
Varun presented on the Blueprint structure of a building architecture which also involved a VR experience. Here's what Paul had to say about the presentation- "We have been thinking for some time to differentiate ourselves vis-a-vis other car dealers. We were pioneers in introducing new technology at our showrooms, and we wanted to take the next step."
Furthermore, Varun explained how VRnxt could help Popular Vehicles and Services to introduce innovative products. As a result, Popular Services has decided to introduce a VR Auto Showroom in India.
Popular's VR Auto Showroom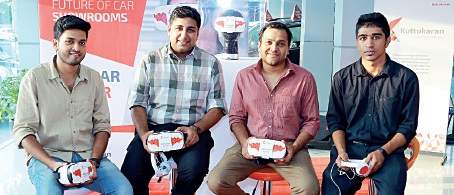 Popular's VR Experience has been designed with a motive to present the customers with an idea about the look and feels of their dream cars. Customers can virtually view as well as shop Maruti cars at their comfort from anywhere. A variety of colors and models are offered. Customers are also made to understand the respective car's features through this model. You literally feel like you're sitting in the car through the model's 360-degree Video. Both interior and exterior views are offered by this user controlled video. Through this, you can view showrooms virtually and cars from any remote location.
Also, customers can experience it at Popular's Mamangalam Showroom. For the public, the experience will be available at the Lulu Mall on 17th and 18th of December 2016. In conclusion, this concept is a perfect blend of Virtual and Physical experience of Car Shopping. Keep reading this space to stay updated. Meanwhile, you can also read about how VR is being implemented in the Auto World.