Welcome to the world of Star Wars, powered by Lenovo. Unlike other smartphone-powered headsets on the market, like the Samsung Gear VR and Google Daydream View, the Lenovo Mirage AR headset is geared toward providing users with an augmented reality experience that combines a smartphone-powered headset, touch controller, and tracking sensor.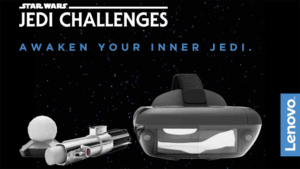 Lenovo's Star Wars
Using a pair of built-in fish-eye cameras, similar in some ways to the Lenovo Phab 2 Pro, the Mirage AR provides users with inside-out positional tracking. The included Tracking Beacon acts as a stable base to track the user's location. Combine that with the Lightsaber Controller, essentially a real-life lightsaber with haptic feedback that doubles as a controller and a pointer, and you have the basis for Star Wars: Jedi Challenge, the new AR game Lenovo partnered with Disney to support.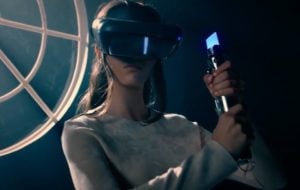 "With Star Wars: Jedi Challenges, Lenovo and Disney are bringing Star Wars to fans in ways they could previously only imagine, "says Jeff Meredith, SVP and General Manager of Consumer Business Segment, Lenovo PCs and Smart Devices. You can check out their website for more details.
Furthermore, the game is priced at $199.99 and sold as a bundle consisting of three pieces of hardware: the Lenovo Mirage AR headset, the Lightsaber Controller, and a Tracking Beacon. A compatible smartphone is also required. Star Wars: Jedi Challenge will be available for sale online starting in November.
May the FORCE be with you!