Methane is no more a rocket fuel only, Methane is here to power your VR World. No I'm not talking about the gas, a 360° VR camera BREWED IN INDIA, MADE IN INDIA. Since last couple of months VR cameras making buzz all over the world as VR is getting hotter day by day. There are many options available to get one for yourself but in US only and very few options(hardly 1-2) if you are in India. Tesseract a Mumbai based 3D and 360 VR camera development company(a team of hardly 8 people) has launched a 360 VR camera for commercial use as well as personal use. Methane is completely, proudly designed, developed and manufactured in India.
Methane is a vertical bar structured camera, consists of Single lens that sits in processed anodized aluminium case .12 MP sensor rotates just once on a specified axis to give us a high-definition 360° output. The output videos and images are all VR ready and no need to do editing, just put your VR headset on and enjoy a 360° view. The camera takes not only 360 and 3D images but can create automatic floor-plans, seamless walkthroughs, virtual reality showcases and much more. It is powered by a 1 GHz dual-core processor with 16 GB in-built storage that can capture up to 200 images in a single charge. It has built in wifi and supports OTA firmware updates so don't worry about performance.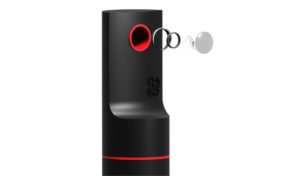 Tesseract mainly developed this camera for B2B purpose, real estate, tourism, travel, hotels, infrastructures are targeted sectors. Methane 360° VR Camera takes 2 minutes to scan a single room in 360° VR with dimensions and 20 minutes to scan a full 2 BHK house with real-time upload! A sample capture will give you an idea about the quality.
It can be operate by its mobile app available for Android and iOS devices which works in 3 easy steps – CAPTURE, PROCESS AND GO LIVE on mobile, web and PC in real-time. Company already has well known clients from India and other countries including Housing, Make my trip, Delhivery, Nestaway, Commonfloor.com, Solund. It is available for pre-order internationally, costs you about ₹50,000 per unit if you're ordering in bulk, ₹1,20,000 per unit if you wanted to get one for yourself.
It will be interesting to see how this uniquely designed single lens rotating camera makes its place to the market. Check out the last post top VR cameras to know more about them.