Technology improvements in today's world are a fast changing cyclical phenomenon. New technologies capture the attention of the users and the product companies are agile enough in today's world to support the technology with state of the art products. Electronic gadgets manufactured by the product companies have always caught the interest of people across the globe. Be it mobile phones or gaming consoles, these gadgets keep getting better by the day which makes it more and more tempting.
The latest technology that is becoming popular at a very fast pace is Virtual Reality (VR). VR has the capabilities of replacing the real world with our imaginations that has no limitations. VR makes it really affordable for one to experience a deep sea diving or skydiving. At the end of the day, these activities are all about experiencing. By now, all of us are convinced that VR is going to be the next big technological disruption. In this article we shall take a look at the different VR and VR related gadgets that has transformed this fictional technology into a reality.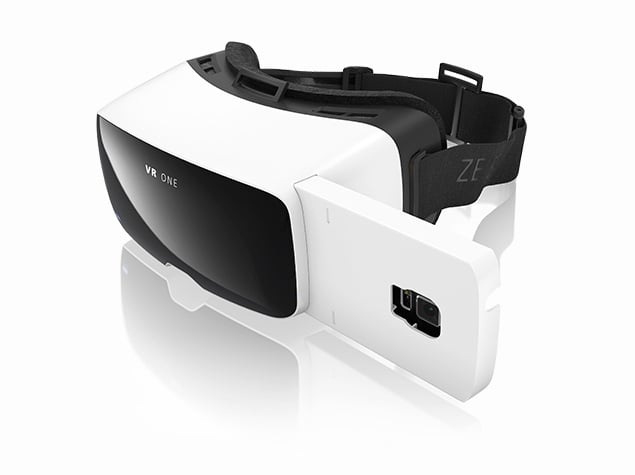 VR headsets
Most important gadget needed to experience VR is a VR headset. A VR headset is just like another pair of goggles that you wear over your eyes. But, in addition to this, some VR headsets have an earpiece that can be plugged into ears and a dock that can be used to connect your mobile phones. The goal of the VR headset is to provide an immersive experience to the gamer or the user depending on his/her usage. The goal is accomplished by blocking all ambient light and at times ambient sound as well.
The VR headsets generally track the users head movement and the same is used to provide the experience of the character in the game to the gamer. The VR headsets do not have the capability of the consoles or the personal computers or the mobile phones and hence, these should be connected to one of these devices. Not just these devices but also the gaming controllers need to be used in tandem with these headsets.
There are a lot of VR head mounted devices available with online retailers in India like Flipkart, Amazon, and Snapdeal. Most of them are based on the Google cardboard technology. These devices are affordable and are compatible with most of the smartphones irrespective of the make. These devices are in no way comparable to the likes of Oculus Rift or HTC Vive.  Lets take a deeper look at each of these individual devices.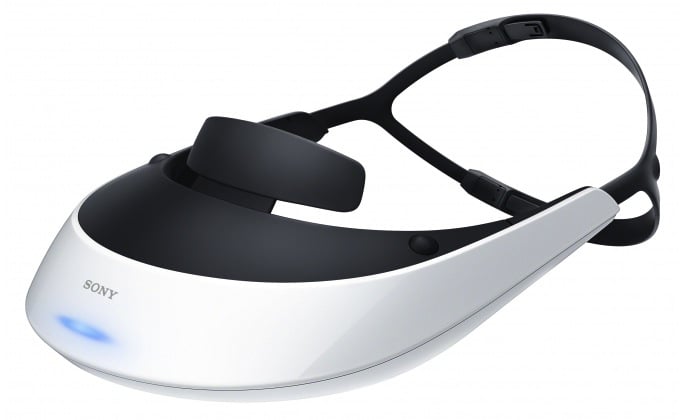 Oculus Rift
Oculus Rift is the flagship device from the famous VR company Oculus, which was bought by none other than Mark Zuckerberg, the founder chairman and CEO of Facebook. Rift promises to be the first of its kind to provide an unmatched experience in VR. Rift is scheduled for a March 28, 2016 global release but, the India release date is unclear at this point in time. Rift has an OLED display with a resolution of 2160X1200 (1080X1200 per eye) working with a refresh rate of 90 Hz and 233 million pixels per second.
The field of view is wide at 110° with a built in 3D audio and built in mic. The weight of the headset is approximately half a kilogram. The head tracking happens with 6 degrees of freedom – 3-axis rotational tracking and 3-axis positional tracking. Any PC with running on Windows 7 service pack 1 64 bit or newer with 8 GB or more of RAM, CPU needs to be Intel i5-4590 equivalent or greater. The PC will need to have HDMI 1.3 Video output to connect to headset and USB 2.0 and 3.0 to connect to the peripherals. To know more about Oculus and Rift, please read our article on "What is Oculus VR?"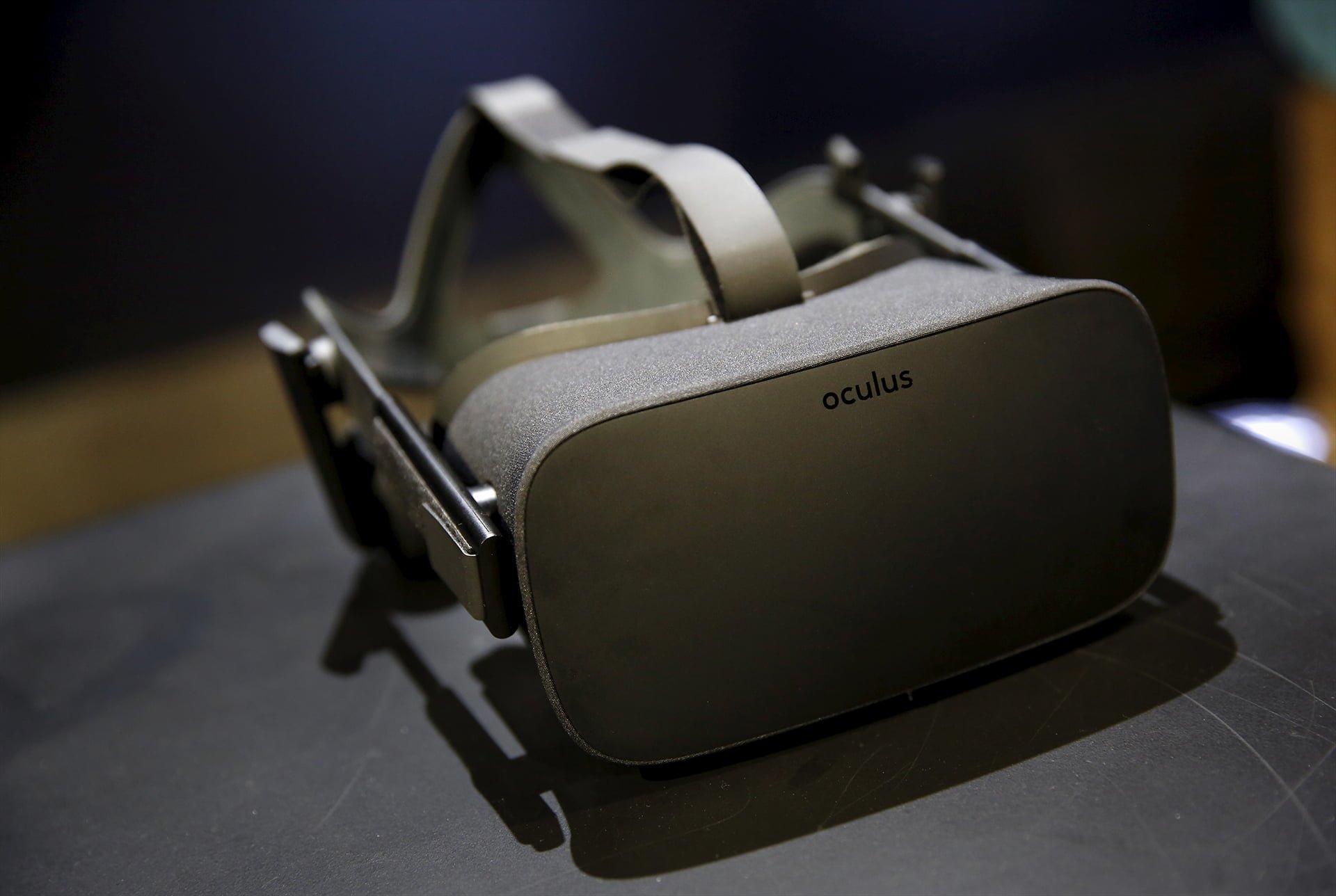 HTC Vive
Scheduled for an April 2016 global release, HTC Vive is the first attempt of HTC in the VR world. The pre-orders have begun on February 29. Vive is priced higher than Oculus Rift at a whooping $799 per set. In comparison with the Rift, Vive package is bundled with a lot more hardware that includes 2 controllers, lighthouse base stations, and ear buds. HTC Vive needs a very powerful PC to tag along for a splendid immersive experience. Vive gets 2 1080X1200 screens making it a total of 2160X1200 pixels with an aspect ratio of 9:5 and a refresh rate of 90Hz that is the same as what we have on a Rift. Vive is a result of a partnership between HTC and Valve with "promise of VR with best-in-class technology and content". Vive has a 110° field of view similar to that of Rift.
The kit also includes multi-function trackpad that provides effortless precision and HD haptic feedback. The recommended PC specs are somewhat similar to that of Oculus Rift but with lesser RAM and USB port requirements (4+ GB of RAM for VIVE against 8+ GB for Rift and 1X USB2.0 or greater for Vive against the multiple USB 2.0 and 3.0 ports for Rift). According to the HTC Vive, the shipping is expected to begin on April 5, 2016.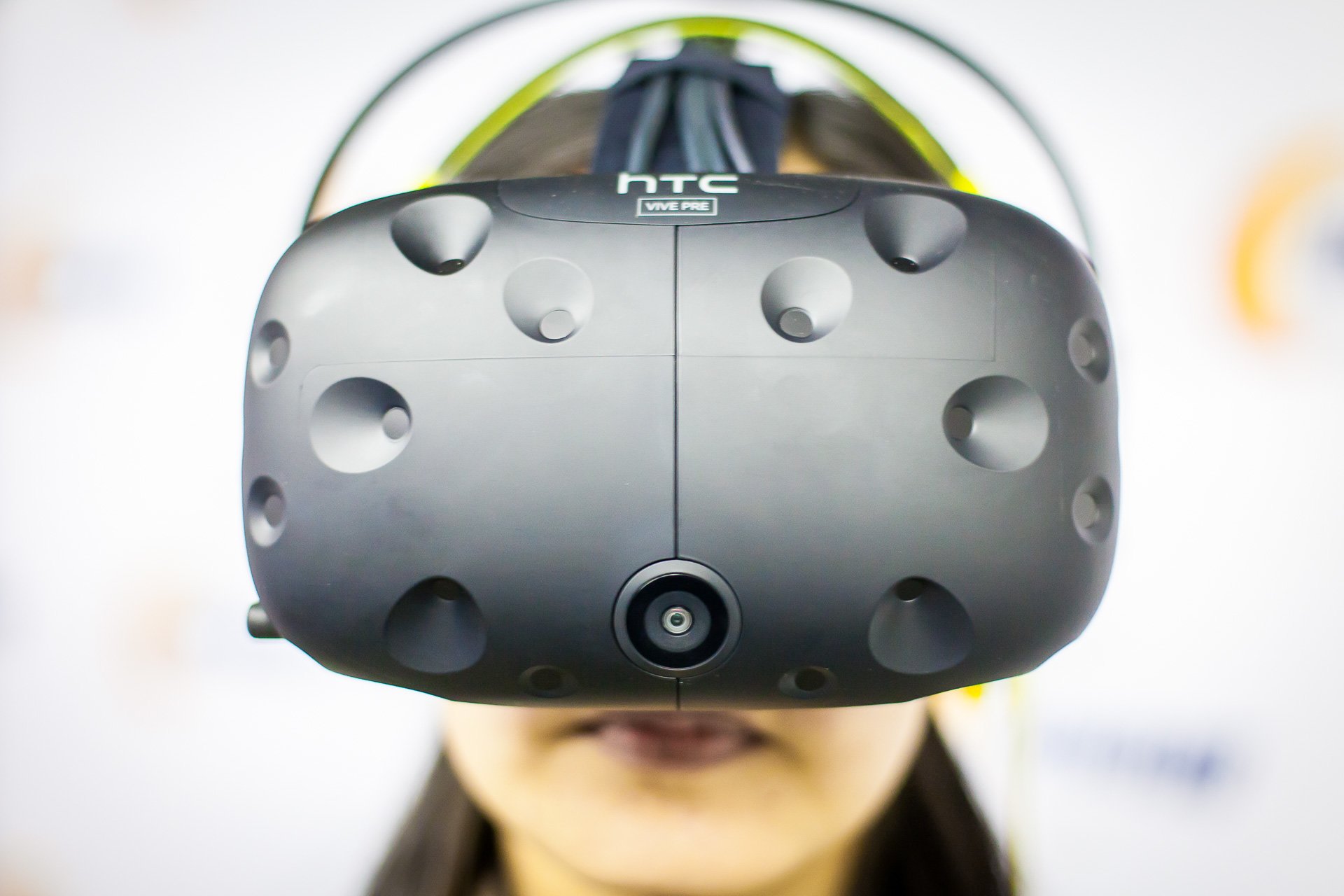 PlayStation VR
PlayStation VR is the first stab of Sony at VR. This is an add-on device for the flagship gaming console from Sony, the PlayStation. This is scheduled for an October 2016 release with the pre-ordering already available for a cost of $549.95. PlayStation VR uses an OLED display with a panel size of 5.7". The panel resolution is 1920X1080 pixels that is equivalent to 960X1080 pixels per eye. The refresh rate is 120 Hz, the highest among the premium VR headsets with approximately 100 degrees of field of view. Gyroscope and the accelerometer are the sensors used in this device, which uses HDMI, and USB connectors like the others. The package is expected to contain a whole bunch of things including PlayStation VR headset, Processor unit, stereo earbuds, HDMI & USB cables, an AC adapter & power cord, and PS VR headset connection adapter. This is probably one of the most awaited accessory for the PlayStation fans across the globe.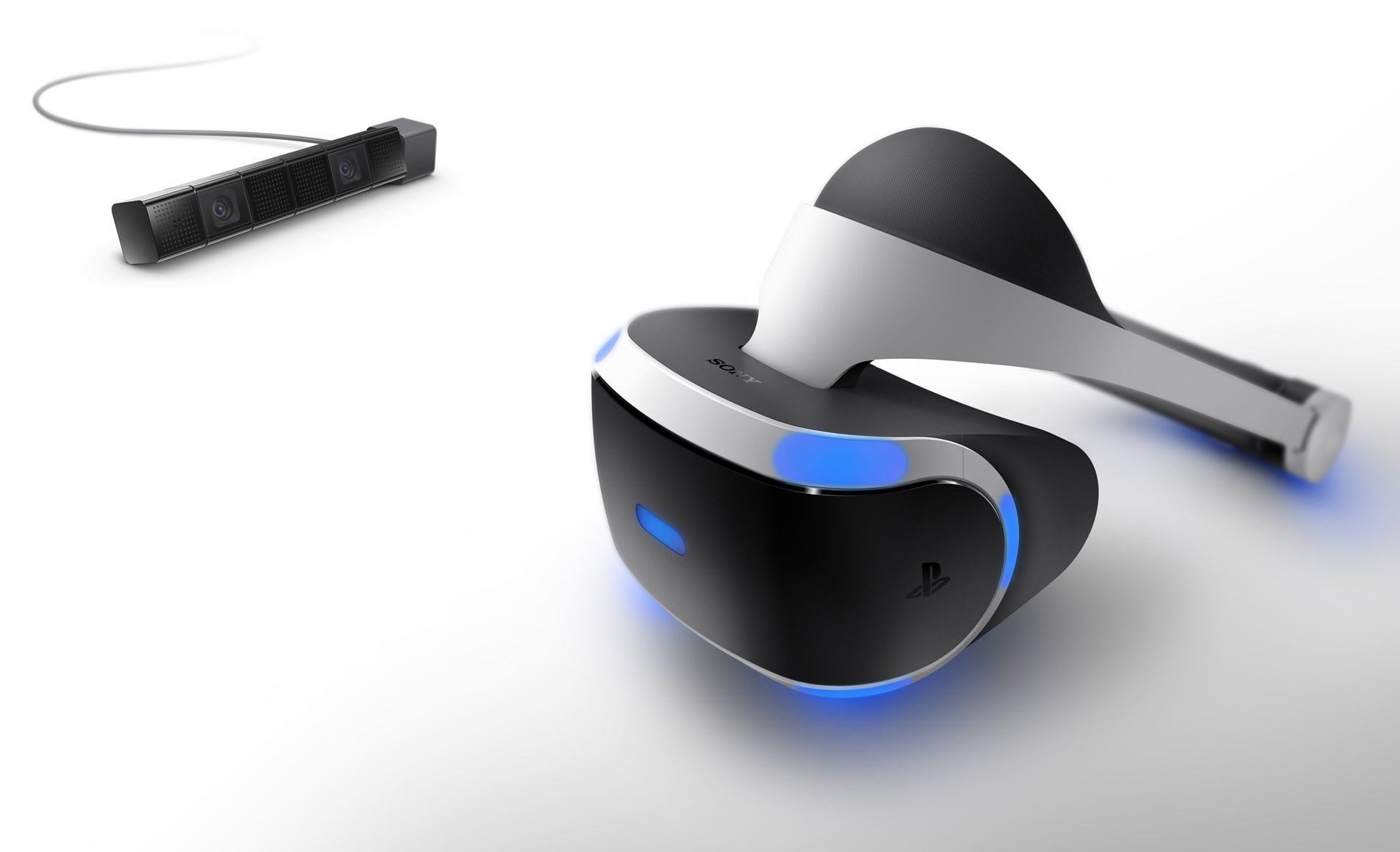 Samsung Gear VR
Released in the month of November 2015, Samsung Gear VR became one of the early devices released by the reputed electronic companies in the VR domain. One can get a Gear VR by spending less than ₹ 10,000 in India but the compatible smart phones are only a hand few Samsung Galaxy devices and they are Galaxy Note 5, S6, S6 Edge, S7, and S7 Edge. The Galaxy smartphone acts as a processor and display for the VR headset and can be connected using the micro-USB port. Weighing around 320gm without the smart phone, Gear VR is an excellent product to experience VR at the mentioned price range. This is an excellent result of the collaboration between Samsung and Oculus to produce a cost effective VR headset with a decent performance. To understand more in detail about the Gear VR, read the detailed article or visit the Samsung official website.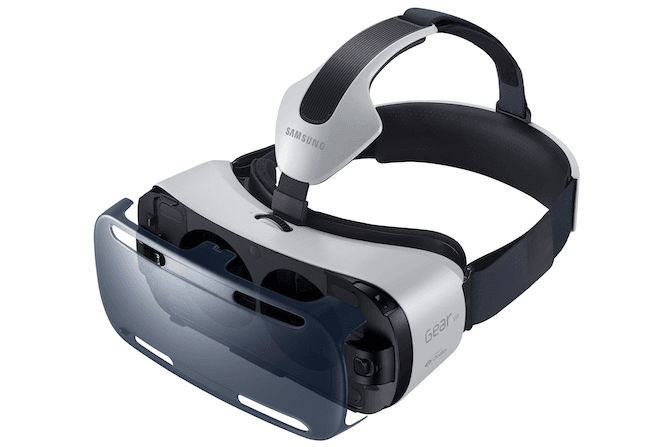 Microsoft HoloLens
HoloLens from Microsoft is probably one of the early attempts by technology giants to combine the immersive capabilities of VR and the digital information overlaying capabilities of augmented reality into one device and this new reality aspect is called "Mixed Reality". As I'm writing this article, MS claims to be shipping the first set of developer editions. If I have to go by history, the customer edition of the product is still far away from a release. Hence, this is the right time for enthusiastic developers to explore and start placing their bet on this product. The HoloLens is using something called "Holograms" to let the users experience mixed reality. Windows 10 is the first platform to support holographic computing. In my opinion it is worth spending sometime on this as most of the personal computers run on Windows 10 and this being a product from Microsoft, I expect seamless integration with Windows 10 and probably with the Xbox consoles. To know more about Microsoft HoloLens, please keep visiting AffinityVR.com.
Image Credits:
wareable.com
techtorpedo.com
wired.com
roadtovr.com