With the years passing by, Disney has made a lot of progress in terms of Virtual Reality. May it be Disney's Star Wars VR Rides or the 'Magic Bench', Disney has always been won hearts. Now, Disney has announced its Virtual Reality Jacket to simulate punches, hugs and make you experience a snake slithering on your body. Read on to know more about Disney's "Force Jacket".
"Force Jacket"- Disney's Virtual Reality Jacket for the win
Disney's Research team has unveiled the prototype of the "Force Jacket". Filled with 26 air packets, the jacket is attached to a machine via tubes that inflates and deflates accordingly. Through Virtual Reality, the jacket delivers mesmerizing experiences touching every sense of yours. Meanwhile, while you're wearing the jacket, a headset is strapped to your face as well. The jacket weighs about 5 pounds including all the tubes and airbags.
Here's a sneak peek into Disney's "Force Jacket"-
As far as the technicalities are concerned, the jacket is connected to a software controls the inflatability. Furthermore, three prototype VR Simulations have been developed for the jacket's initiation. Also, the jacket is body-fit and the velcro ensures that you don't miss out on anything. Adding up, here's what the highlight of the researcher's paper says"The primary motivation of this research was to enhance the entertainment value of [head-mounted display]-based visual VR experiences in games and movies, by providing on-body force feedback" as per the reports on The Washington Post.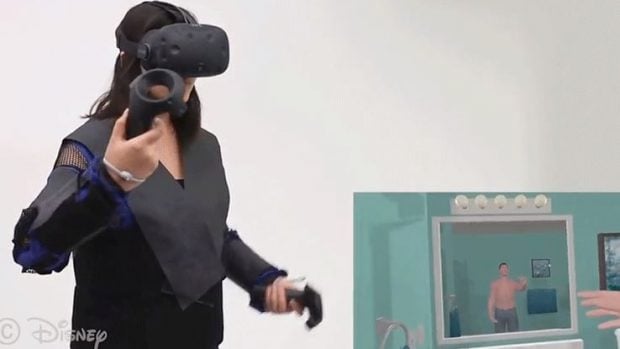 Although Virtual Reality still seems to be an emerging technology, a lot of hope can be seen for a bright VR Future. Meanwhile, most of the eh Topnotch industries working with VR proves that there's a lot more to it. Keep reading this space to stay updated with Disney's "Force Jacket". Meanwhile, you can also read about Marvel's new Virtual Reality Game.