Virtual reality is the best way to explore the world without limitations. Watch beautifully filmed 360° videos of iconic places, find yourself by the ocean in Hawaii or Florida, meet local people in New York or Amsterdam.VR world is the World without borders. To explore this new world you need such companions too. Moving on from google cardboard version of VR headset and to give immersive VR experience to its users, top Chinese smartphone makers are developing their own VR headsets.
Mi VR Play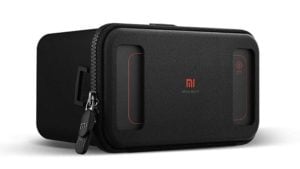 Xiaomi is a big player in smartphone world and well known for their low cost feature full smartphones. Xiaomi recently in their launch event unveiled own VR headset for mi devices. Mi VR Play is wrapped in smooth, lightweight, durable Lycra for long-lasting comfort sealed with a two way zipper. It uses anti reflective lens with high tolerance interval of 0.01mm. Xiaomi designed this product to the smallest details, Anti-slip strips restrict phone movement also act as alignment manager and prevents accidental presses. Mi VR Play comes with a textured metal button to do direct interaction with you phone. Xiaomi teamed up with different VR content providers to provide high quality contents. Sadly it is now available in china only, will be available in India soon.
Leeco VR
Leeco(formerly Letv) is the fastest growing chinese smartphone company. Leeco is famous for their innovative devices and their own ecosystem. Leeco recently in their US launch event has announced all the new Leeco VR (Explore VR) headset for their smartphones. Le VR comes up with the premium looking plastic body with memory foam lining for comfort. Leeco replaced the old strap style with foldable plastic head mount. It features aspheric high precision lenses for immersive VR experience. Le VR has built in Gyroscope,accelerometer and magnetometer and proximity sensor for outstanding gaming experience. VR headset connects to the phone via usb type-c and it has high performance IMU sensor to reduce latency.
Huawei VR
Huawei, another well-known chinese modem and smartphone maker getting into VR. It introduced own VR headset as a perfect mate for their flagship device P9 to take on samsung's Gear VR.It's pretty much identical to how Samsung's Gear VR works: you insert a phone into the front of it, strap it on, and you've got a basic but functional VR headset. It features a 360-degree sound field to go with the 360-degree videos. The Huawei VR has a touch panel, a back button, and volume keys on the right. The headset has 20ms latency and a 95-degree field of view, as well as a blue light filter that's said to protect your eyes.
To stand up to the mark and stay in the race it will be interesting to keep an eye on how different companies come up with innovative ideas.Check out  last week's article Top trending VR apps. Stay tuned for more updates!